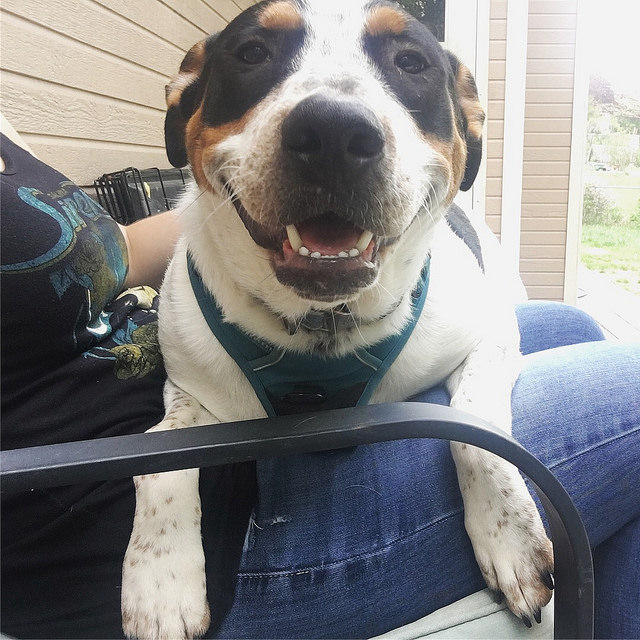 In September we lost our first fur baby, Sadie. Even though she was 15 and we saw it coming it was still hard. She was our baby before we had real babies. She has been there since the day we moved into our first house together. There was no point in our adult lives that she wasn't a part of.
We tried to give Revo all the extra attention. Trips to the dog park, tons of love…but you could tell he was sad. Not that Sadie played with him or really did anything other than sleep most of the time. But she was his friend and you could tell losing her had an effect on him. He just seemed to age (I mean, he will be 10 in June) quickly and just seemed…old. Or mopey. Or both.
So… we started stalking the local shelter Facebook pages and applied for a sweet little shepherd mix that looked like Revo but was terrified of everyone. That one didn't work out for us so we kept looking. We had a few we were interested in and ended up falling in love with this face.
His name is Sheldon. His mom came to the rescue last year pregnant and had her litter with her foster family. They were all named after characters from The Big Bang Theory and they all found homes. And then one was returned. Sheldon. He was about 7 months old with zero manners and we decided that was for us!
He fit in beautifully and really brought Revo to life again. But man, no manners. He's cute though. Thankfully. We forgot how crazy it is having a young spunky dog that doesn't know the ropes around here. Boy was our work cut out for us. And, he's part Australian Shepherd…so yeah. He's ALWAYS bored. Either we keep him busy or he finds ways to busy himself which usually involves eating his way through something important. He's also a jumper but is so much better now than he was at first. And for all the ways he's a pain, he is perfectly crate trained and great on walks. A little distractible but he doesn't pull and really is just happy to be outside with us.
Now, if we're Facebook friends I know you've heard all about how he's the worst dog ever. And he kind of is but he's also the best. And he really has improved over the 3 and a half months he's with been us. He will be 1 at the end of June (the 26th! Fate.) He's teaching me a lot about patience haha But he just loves so hard. You can't not love him back.
Huge thank you to Purple PAWS for bringing this hunk of a beast dog into our lives <3 If you're in the Manhattan, KS area and thinking of adopting a new furbaby, check them out!